Overseas Projects - Publication
K.Haars: Electricity from Sunlight,
GATE/GTZ, Vieweg 1997, ISBN 3-528.020881
A guide book on autonomous solar energy supply for homes and buildings.
Modern society and technology are based on energy and especially on electricity. Most rural inhabitants, however, are deprived of services which are self-evident to their urban counterparts. Today, many regions are not only without electricity but without any hope of enjoying such service in the foreseeable future.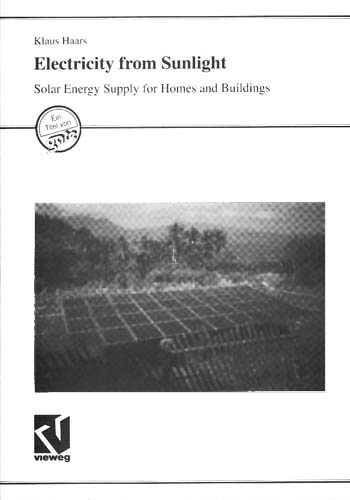 The demand for better services is strong and urgent. Households are in need of lighting, refrigeration and entertainment. Shops and bars want to provide some basic services such as music, videos or cold drinks to their customers. Offices like to operate computers and communication equipment. Workshops struggle to improve their work with small electric tools and machines and health centres by storing vaccines.
Photovoltaics, the generating electricity from sunlight, can provide power for all of them. But not everyone is a photovoltaic expert. How can you assess and deal with an unknown technology? This guide offers the answers to those who look for advice on how to supply their home, office or centre with solar energy.
Is a photovoltaic system technically and economically feasible for your purpose?
How does it look like and which components are necessary?
Which system size will suit the demand?
How to organise the purchase of a system?
How to get a high-quality, reliable and cost-effective system?
This book will introduce you to the technology and provide you with the know-how to decide whether photovoltaics is the right choice to suit your specific requirements. It gives an introduction to some essential technical aspects and takes you from the first assessment through the design and procurement procedures up to the final phase of installation and operation.